Groundwork - Tarmac - Patios - Drives - Excavations
Ruthin - Denbigh - Chester - Wrexham - North Wales
We are an experienced company providing a range of services including groundwork, tarmac, patios, drives and excavation work. We are happy to offer our services to the domestic market as well as contract work. The quality of our work is of the highest standard and our prices are very competitive. Staff are experienced and reliable and everything possible is done to ensure that our customers are completely satisfied with our work.
Our services include:-
A site visit to discuss your requirements
Free expert help and advice as to your options
Full written quotation
All work undertake by fully experienced staff
WE ARE HAPPY TO TENDER FOR ALL TYPES OF CONTRACT WORK.
We are an experienced groundwork company working with building contractors and local authorities throughout North Wales and beyond. We would be happy to talk to you about your project, be it commercial or domestic and we would be prepared to tender for all types of groundwork, large or small. More info.
We have been laying high quality tarmac for over 15 years and during that time we have provided tarmac for drives, paths, housing estates and roads throughout North Wales. Our tarmac stands the test of time sustaining an attractive appearance. We only lay high quality tarmac and customers are delighted with the results. More info.
Patios and drives really do finish off a home. We are experts in the field and take pride in the work we do. We can talk to you to discuss your options, give you a clear understanding of the price and offer paving or tarmac. Work is undertaken quickly and efficiently by experienced staff and everything is done to your specification. More info.
We can handle all types of excavation work. We work for builders, local authorities and home owners. Experienced staff are all health and safety trained and provide a fast efficient service throughout North Wales and beyond. If you're looking for a good reliable company for your excavation work please contact us. More info.


PROUD TO BE THE MAIN SPONSOR FOR RUTHIN TOWN FC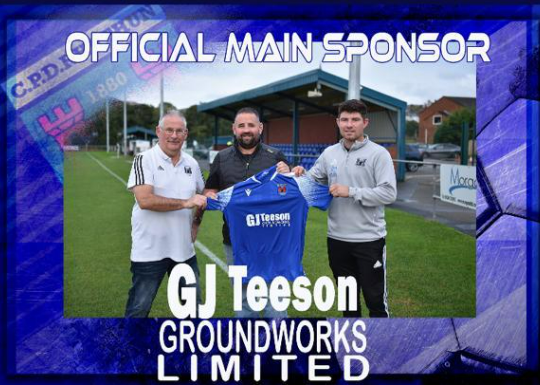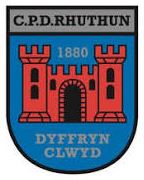 G J Teeson Ltd
Is an experienced reliable company covering Ruthin, Denbigh, Chester, Wrexham and the whole of North Wales .
All preparation work carried out in Prion with a new surface of 55/10 HRA tarmac laid and compacted to 45mm thick.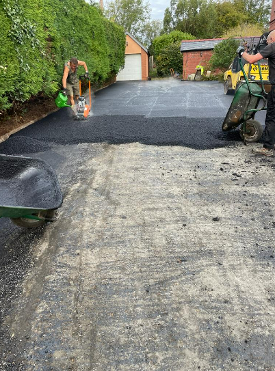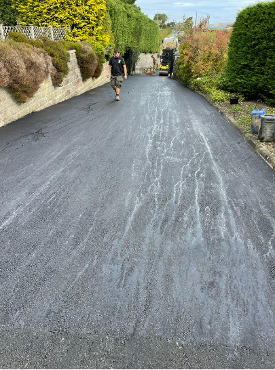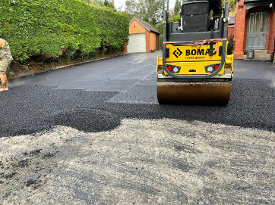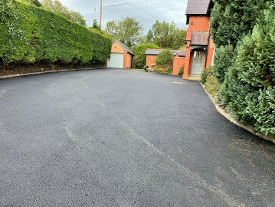 Customer Service
As a local company we take pride in the work we do. We talk to our customers and understand what they need. We will discuss the work, offer expert advice and talk you through the entire project. Our pricing is clear and we leave everything neat and tidy. We cover Ruthin, Denbigh, Chester, Wrexham and the rest of North Wales.Please contact us.
Hi Garry,
Thanks very much for the work you and the lads have done for us, the standard of work is excellent, we are really pleased with the finished job which looks fantastic! Just to add that during the work, communication on progress was clear and the whole team was so polite and professional at all times. I would have no hesitation in highly recommending GJ Teeson Limited.
Thanks for a highly professional job done well!
Best wishes Paul
I live in Bro Deg, Ruthin. I would pass on foot daily, the work being carried out adjacent to a public footpath to town. Your staff were of a pleasant disposition, I would engage in some friendly banter while passing and it was always greeted with a smile. The work now seems complete. The finishing touches were also impressive. A couple of clumps of Snowdrops were growing on the public side of the fence. I note your staff worked round them, banking soil all around them, allowing them to continue flowering.
Well done,
Regards, Mr Griffiths
"The driveway looks really good. After speaking with the house manager he has complimented everything saying the guys on site were really professional and the work was excellent, thank you."
Address
Unit 7a,
Lon Parcwr Bus Park
Ruthin
LL15 1NJ
01824 702026
© Copyright G J Teeson Ltd